Name:Winston Chew Night
Nickname?:Chewy
Age:16
Gender:male
Sexuality:straight
Personality: He's often the voice of reason and a reluctant co-conspirator in hijinks and tends to mask his insecurity with a cynical attitude and self-deprecating sense of humor, which protect him from moving too far out of his comfort. Winston can easly be pressured to do things by others and is usually treated like a door mat,he rarely lies and rarely gets mad unless there is a perfectly good reason to.
Looks: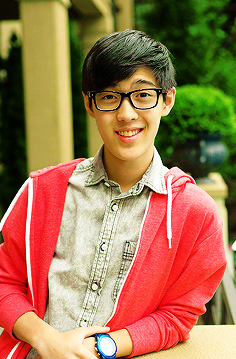 Faceclaim (if one):Andre Kim
God parent:Nike
Power(s)?:
Backstory: Winston was born in Canada and grew up close to his cousins who he spent most of his childhood with. After middle school his cousins moved away and he was left to spend his first year of high school alone. Winston was claimed half way through his freshman year and was given a set of knifes as a gift from his mother, he spent all of his free time training and learning about greek mythology. One day when his school was attacked it cause many to be hospitalized and gave him a scar on his leg and soon after he was shipped off to camp where he met his cousins again.  
Strengths:
-Very Smart
-Good with people and teams
-Good with a knife
Weaknesses:
-Bad with females
-awkward and clumsy
-a bit of a show off.
Weapon(s):Twin knifes
Other?:replacing Chase