Name:Shelby Night
Nickname?:Bree
Age:16
Gender:Female
Sexuality:straight
Personality:Shelby is a cheerful and caring young girl who sees the bright side in even the darkest situations.She tends to be really awkward and clumsy in large crowds.Shelby always fakes a smile when she is hurting so other don't have to worry about her, but she is really afraid of waking up one day and having every thing taken away from her again.
Looks: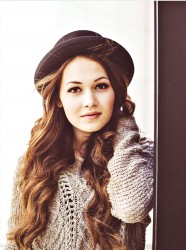 God parent:Apollo
Power(s)?:Photokinesis and healing, but healing takes a lot of energy and can knock her out if she uses it too much
Backstory:Shelby's mother died when she was young and she was constantly in and out of foster homes and shelters even though she tried her best. She didn't let the constant moving and put on a happy smiled every time she was taken to the next house, by her 7 birthday after she was claimed she was taken in by a nice family,The Nights, who wouldn't give her up she was then trained with a bow and how to use her powers.
Strengths:
-Has great agility and reflexes
-Her optimism even in bad situations
-Her compassion for others
-She has great aim
Weaknesses:
-Her suppression of her fears
-She trust to easily
-She tends to push herself to hard
-She tends puts other's feelings and wants ahead of her own
Weapon(s):A bow,special arrows, and a knife
Other?:Replacing Wesley