Name
:
Alicia Thompson
Nickname
?:
~
Age
:
15
D.O.B
:
March 2nd
Gender
:
Female
Sexuality
:
Bisexual
Personality
:
ISFJ | Introverted Sensing Feeling Judging
Alicia is mostly known for her quietness, sensitivity, and caring nature. Around most she's quiet and afraid to open up, feeling self conscious about herself and her abilities. To add she has minor Social Awkwardness and finds herself unable to make eye contact, stutter on sentences, has an enhanced fear of being judged, and has difficulty being able to interact in a large group of people without feeling anxious or sweaty (typically in her palms). Not to mention Alicia is afraid of physical interaction with people. Hugging, holding hands, or even kissing makes her feel uncomfortable and nervous.
Being an Introvert, she also dislikes large crowds and needs to have times of solitude. However, despite all of this she's a very kind and gentle soul and will listen to those who reach out to her. Even if she doesn't have the answer, or doesn't know exactly what to do in their situation she'll try her best to support them. Yet, it's hard for her to do the same and be open about her own issues and problems, unless of course she feels close to a person and gives her trust in them.
Alicia is also a smart girl who can make wise choices despite fearing she might make the wrong one, she likes guidance but is afraid to ask others for it seeing as she wants to look mature and independent so people can be proud of her.
To add, Alicia is actually very sensitive. When people criticize her or pick on her she'll either find herself in tears or internally dwell on it and allow it to nag at her despite how hard she tries to let it not. A lot of her dealing with things comes through crying and sometimes even laughter, yes, laughter. Sometimes when something hurts her she'll laugh, or when she doesn't know how to react she laughs.
On top of it all she has Depression and takes medication for it. It comes in small or large waves, depending on situations that come up in her life. When it strikes her she loses interest, her mood becomes more dull and she feels empty, worthless, and finds herself crying without any real reason along with the usual Depression symptoms.
Also, something to note, Alicia really only opens up and acts outgoing to those she feels close to or feels like she can open up to. She treasures friendship and when it feels toxic or she feels like she's being used or betrayed she will end it.
Looks: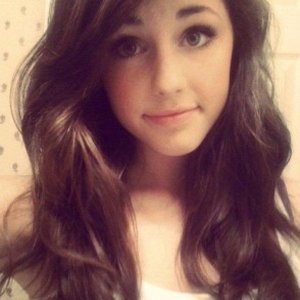 God parent
:
Poseidon
Power(s)
?:
Major
-
*Hydrokinesis
*Cryokinesis
Minor
-
*Stronger when in water, can breathe underwater and keep herself dry, can talk to aquatic mammals + horses, etc.
Backstory
:
Growing up, Alicia had a mother, Maridith, Step-Father, Christopher, and two year younger step-sister by the name of Kaitlyn. After Alicia's real father left her mother and her (from what she knows before she was even born) her mother married another man and had her step-sister two years after Alicia was born. As a child, she was very close with her mother and had a disliking for her step-father. Being truthful, he scared her more than anything. He was a big guy, rude at times, and punished her for her behavior by spanking her with a belt in order for her to "understand" what good behavior is. Being the older one and being a step-child her sister took advantage of the situation and got her into more trouble than she should have, faking being hurt by Alicia when their parents weren't around and such. This caused a dislike to her sister, and ended up being one of the main reasons they don't talk today.
As she matured she found school difficult but at the same time not. Being Dyslexic and ADHD (thanks to being a Half-Blood) didn't help progress, but she tried to get past that and do her best to please her parents. Also, as she grew she watched her parents many times go through a "divorce stages". Meaning, they'd flat out tell Alicia and her step-sis that they were divorcing and one time watched as Christopher packed his things in the car. What really got to her was when their parents called them in to announce once again they were planning on divorcing and instead began to fight in front of them, yelling and screaming. After that her family quickly began breaking apart, especially after her step-father had left the two girls alone when her mom went shopping with the note "I'm sorry for everything, love you". After a police call and the fear of losing her step-father her mother became Depressed and gained Anxiety issues, allowing her to see a darkened side and force herself to grow up quicker, even taking care of her mother and little step-sis while Chris was in a mental hospital. Her Depression also developed in this time, which impacted her life a lot.
Three years after that, when she turned 14, her family was still together and school became harder for her, she also was in a relationship that ended because Alicia couldn't live up to "pleasing" him. At this time she also discovered that her real dad was in fact a Greek God and a lot of things she saw that couldn't be explained were monsters. After this she decided to go to camp yearlong starting when she was 15.
Strengths
: The Sea/Lakes/Water in general, good at understanding others and having tolerance, works well with small groups of people, smart and good decision maker, somewhat patient when she really tries.
Weaknesses
: Sensitive, her Depression and Social Awkwardness can be considered a weakness, physically weak and not too good at physical activities in general, large groups of people, fighting in general.
Weapon(s)
:
Celestial Bronze Sword
Other
?:
*Nearsighted, she has glasses she wears often (however she does have contacts and wears them when she should).
*She visits her mother and step-father on Holidays only.